The Rotary Foundation of Rotary International is a not-for-profit corporation that promotes world understanding through international humanitarian service programs and educational and cultural exchanges. It is supported solely by voluntary contributions from Rotarians and others who share its vision of a better world. Since 1947, the Foundation has awarded more than US$1.1 billion in humanitarian and educational grants, which are initiated and administered by local Rotary clubs and districts.
The Foundation was created in 1917 by Rotary International's sixth president, Arch C. Klumph, as an endowment fund for Rotary "to do good in the world." It has grown from an initial contribution of US$26.50 to more than US$73 million contributed in 2000-01. Its event-filled history is a story of Rotarians learning the value of service to humanity.
A child receives a polio vaccination through the

Rotary Foundation Polio Plus project.

A Rotary Foundation Matching Grant brought clean

drinking water to this small villiage.
The Foundation's Humanitarian Programs fund international Rotary club and district projects to improve the quality of life, providing health care, clean water, food, education, and other essential needs primarily in the developing world. One of the major Humanitarian Programs is PolioPlus, which seeks to eradicate the polio virus worldwide. Through its Educational Programs, the Foundation provides funding for some 1,200 students to study abroad each year. Grants are also awarded to university teachers to teach in developing countries and for exchanges of business and professional people. Former participants in the Foundation's programs have the opportunity to continue their affiliation with Rotary as Foundation Alumni.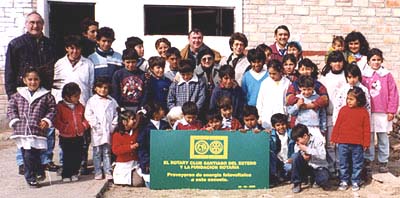 A Matching Grant from the Rotary Foundation provided solar energy for three rural
schools near Santiago del Estero, Argentina.
---
OUR FOUNDATION NEWSLETTER (#71)
DECEMBER 2008
http://www.rotaryfirst100.org/foundation/newsletter/index.htm
Please click on the December 2008 issue.
Dear Rotary Colleagues:
We are - right now - in the worst worldwide financial crisis since the great depression. If we (the business, professional and community leaders) are hurting, think of what is happening to others. November is Rotary Foundation month and this year it is not only important but also necessary to dig deeper to help. Support Our Foundation!
Peace and human rights advocate, Archbishop Desmond Tutu is to be the keynote speaker at the Rotary World Peace Symposium in Birmingham, UK. Please see pages 10-16.
We are sharing a late breaking addition to the article on page 20. This economy is affecting all – both rich and poor and PepsiCo had to reduce the amount of funding likely to be made available to WASRAG.
Group Study Exchange (GSE) is a Rotary Foundation program, which enables Rotarians to Advance World Understanding, Goodwill, and Peace. Please read a heartfelt article ("I learned we are all citizens of the world"), written by a GSE team member from Colombia on pages 34-35.
It seems that this newsletter has grown into magazine size -- please don't be put off --- for the typesetting is large, the articles are brief, and there is lots of open space. Enjoy!
Click here: http://www.rotaryfirst100.org/foundation/newsletter/index.htm
Then please click on the DECEMBER 2008 issue.
Please pass this FOUNDATION NEWSLETTER onward to your clubs, districts, and zones.
Very truly yours,
Eddie
Dr. Edward Blender,
Editor, Our Foundation Newsletter
Chair: Rotary Centers Major Gifts Initiative
CIO: Disaster Relief Rotarian Action Group
Health and Hunger Resource Group 2006-2009
---
You can find out more about the Rotary Foundation by visiting the Foundation section of the Rotary International web site.
Information on this page came from the following pages at the Rotary International web site: